Alaska Cod Cakes with Remoulade Sauce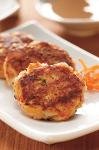 Serves: 4
Prep Time: 25 minutes
Ingredients:
Remoulade Sauce
3 Tablespoons Dijon-style mustard
1-1/2 Tablespoons low-fat mayonnaise
1-1/2 Tablespoons extra virgin olive oil
1-1/2 Tablespoons fresh lemon juice
1/4 teaspoon cayenne pepper
1/4 teaspoon paprika
2 Tablespoons parsley, chopped fine, or 2 teaspoons dried parsley
Cod Cakes
1-1/2 lbs. Alaska Cod fillets, fresh, thawed or frozen
1/4 teaspoon ground cayenne pepper
2 teaspoons grated orange peel
4 oz. fat-free cream cheese
1/2 cup egg product or 2 eggs, beaten
1/3 cup each red and yellow sweet bell peppers, chopped fine
1/3 cup green onions, chopped fine
1/4 cup parsley, chopped fine, or 1 Tablespoon dried parsley
2 cloves garlic, minced
1/2 cup cracker crumbs
Directions:
Prepare remoulade sauce: Combine mustard, mayonnaise, olive oil, lemon juice, cayenne pepper, and paprika in small bowl; stir in parsley. Cover and refrigerate until needed.
Prepare cod cakes: In microwavable covered dish, cook frozen Alaska cod on medium-high (70% power) about 15 minutes OR fresh/thawed fillets for 4 minutes, until fully cooked. Drain well and flake.
In large bowl, mix together cayenne pepper, orange peel, cream cheese, eggs, bell peppers, onions, parsley, garlic, and cracker crumbs. Stir in cod flakes until blended. Using about 1/3 cup of cod mixture per cake, shape 12 cakes about 1/2-inch thick. (Cakes can be chilled 15 minutes to 1 hour.)
Heat a heavy nonstick skillet over medium heat. Spray skillet with nonstick spray. Place several cod cakes in skillet; cook about 3 minutes. Turn over carefully with spatula. Cover skillet and cook 3 minutes more, or until set and cooked through. Cakes will be brown.
Serve hot with remoulade sauce.
Nutrients per servings: 331 calories, 12.5g total fat, 2.5g saturated fat, 34% calories from fat, 173mg cholesterol, 40g protein, 14g carbohydrate, 1g fiber, 738mg sodium, 126mg calcium and .5g omega-3 fatty acids.