Wild Alaska Cod in Miso Broth with Udon Noodles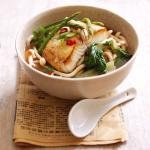 Serves: 2
Prep Time: 10 minutes
Cook Time: 12 minutes
Ingredients:
1/4 cup miso paste
2 cups water
2 Tablespoons teriyaki sauce or soy sauce
1 package (8 oz.) udon noodles
1 red chilli pepper, seeded and thinly sliced
4 green onions, thinly sliced
1 cup mushrooms, sliced
2 cups fresh stir-fry vegetables
1 Tablespoon butter
1 Tablespoon toasted sesame oil
2 Alaska cod fillets (4 to 6. oz each), fresh or thawed
Sweet chili sauce, if desired
Directions:
Into a wok or large saucepan, add the miso, water and teriyaki or soy sauce. Bring to a boil, then reduce the heat to simmer and add the noodles and cook for 5 minutes. Add the chili, onions, mushrooms and stir-fry vegetables and cook additional 5 minutes.
While vegetables are cooking, prepare the cod. Melt the butter and sesame oil in a pan. Add the cod fillets, searing them over medium-high heat. Turn fillets over. Reduce heat to medium and cook additional 5 to 6 minutes, until opaque throughout.
Ladle the noodle mixture into two wide bowls, then top with a cod fillet. Serve with sweet chili sauce, if desired.
Cook's tips: Make this dish another time with Alaska salmon fillets. Choose an interesting mix of stir-fry vegetables, with bok choi, pea shoots and micro greens/sprouts.