Alaska Cod with Lime, Herb & Parmesan Crust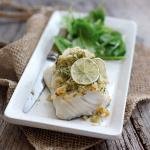 Serves: 4
Prep Time: 10 minutes
Cook Time: 15 minutes
Ingredients:
4 Tablespoons olive oil
4 Alaska cod fillets (4 to 6 oz. each), fresh or thawed
2 limes
1 cup fresh white bread crumbs
1 Tablespoon chopped fresh dill, oregano or parsley
1/2 cup finely grated Parmesan cheese
Salt and Freshly ground black pepper
Directions:
Heat oven to 400F. Grease a baking sheet with a tablespoon of the olive oil; add the cod fillets. Finely grate the zest of lime and set zest aside. Squeeze the juice from this lime over the fish fillets.
Mix together the lime zest, bread crumbs, herbs, 1/4 cup of the grated cheese and remaining olive oil. Season with a little salt and pepper. Divide and spread the mixture over the surface of each fillet. Sprinkle on the remaining Parmesan cheese. Thinly slice the remaining lime; arrange on top of the fillets.
Bake for 12 to 15 minutes, or until the cod is opaque throughout and flakes easily when tested with a fork.
Cook's tip: You can substitute Alaska pollock fillets, halibut or salmon for the cod; the topping works well on all of them.