Spicy Alaska Halibut Stew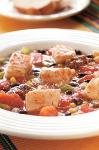 Serves: 4
Prep Time: 5 minutes
Ingredients:
4 Alaska Halibut steaks or fillets (4 to 6 oz. each), fresh, thawed or frozen
6 oz. mild Italian sausage
1 cup chopped onion
1/2 cup chopped green pepper
1 can (14 oz.) fat-free chicken broth
1 can (15 oz.) whole kernel corn
1 can (15 oz.) black beans, drained and rinsed
1 can (28 oz.) peeled diced tomatoes
1/4 to 1/2 teaspoon crushed red pepper flakes
1 teaspoon seafood seasoning
1/2 to 1 teaspoon dried dill weed

Directions:
Rinse any ice glaze from frozen Alaska Halibut under cold water; pat dry with paper towel. Thaw frozen halibut in microwave for 6 to 10 minutes on medium- low (30% power). Cut halibut into 1-inch pieces.

Brown sausage in large soup pot over medium-high heat for 5 minutes, breaking into chunks. Drain sausage. Add onion, green pepper, chicken broth, corn, black beans, and tomatoes. Simmer 10 minutes. Add seasonings and halibut. Simmer an additional 7 to 10 minutes until halibut is cooked.

Nutrients per serving: 520 calories, 14g total fat, 4g saturated fat, 26% calories from fat, 69mg cholesterol, 43g protein, 50g carbohydrate, 12g fiber, 1485mg sodium, 181mg calcium and .6g omega-3 fatty acids.