Lime-Buttered Grilled Alaska Crab with Trinidad Salad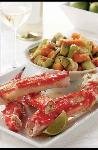 Serves: 4
Ingredients:
Trinidad Salad
1/2 cup Carapelli Extra Virgin Olive Oil
1 lime, juiced and divided
1/4 cup Robert Mondavi Private Selection Pinot Gris or Chardonnay
2 Tablespoons whole grain mustard
1 can (14 to 15 oz.) palm hearts, drained and sliced crosswise
1 large, firm ripe papaya, skinned and chunked
1 cup thinly sliced celery
1/2 fresh small red chili pepper, sliced and minced
1/4 small sweet onion, thinly sliced, then quartered
2 large, firm ripe avocados, pitted and chunked
1/3 cup butter, melted
1/4 to 1/2 teaspoon chili oil
1/8 teaspoon cayenne pepper
3 to 4 pounds Alaska Crab legs (King, Snow or Dungeness), split open to expose meat
Directions:
Whisk together Carapelli Extra Virgin Olive Oil, 1/2 of the lime juice, wine and mustard for salad dressing. In large bowl, add salad ingredients, topping with avocado. Pour dressing over avocado; cover and refrigerate.
Preheat grill or broiler/oven to medium-high heat.
Blend butter, chili oil, cayenne and remaining lime juice. Brush butter mixture onto exposed crab meat; place crab legs onto grill and cook 4 to 5 minutes, until heated through. (Drizzle any unused sauce over crab legs when serving.) Gently stir salad mixture to coat evenly; serve with crab legs.
Makes 4 to 6 servings
Nutrients per serving: 774 calories, 49g total fat, 13g saturated fat, 57% calories from fat, 166mg cholesterol, 62g protein, 19.5g carbohydrate, 8g fiber, 3226mg sodium, 236mg calcium and 1.1g omega-3 fatty acids.