Alaska Salmon Cakes with Yogurt Dill Sauce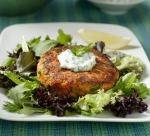 Serves: 4
Prep Time: 15 minutes
Ingredients:
1 can (14.75 ounces) or 2 cans (7.5 ounces each) traditional-pack Alaska salmon or 2 cans or pouches (6 to 7.1 ounces each) skinless, boneless salmon
1 egg
1/4 cup small-curd nonfat cottage cheese
1 Tablespoon chopped fresh dill or 1 teaspoon dried dill weed
1 teaspoon lemon pepper seasoning
1/4 cup sliced green onions
3 Tablespoons garlic-and-herb bread crumbs
Vegetable oil
Yogurt Dill Sauce (recipe follows)
Directions:
Drain salmon and discard skin and bones (if any).
In a medium bowl, whisk egg lightly. Add cottage cheese, dill, lemon pepper and green onions, and mix well. Mix in drained salmon, then sprinkle in bread crumbs and mix well. Shape mixture into 4 patties, 1/2- to 3/4-inch thick and 3 inches in diameter.
Heat a nonstick skillet over medium-high heat and brush skillet with oil. Fry the salmon cakes for about 2-1/2 to 3 minutes per side. Cakes should be crisp and golden on the outside and still moist on the inside.
Serve with Yogurt Dill Sauce.
Tips: For a crunchy coating, lightly dust salmon cakes with fine cornmeal before frying. For an appetizer form cakes into 12 small portions and dollop with a little sauce.
Yogurt Dill Sauce
Prep Time: 5 minutes
Makes about: 3/4 cup
Ingredients:
1/2 cup nonfat yogurt
1-1/2 teaspoons finely minced fresh garlic
Salt and pepper
1 Tablespoon chopped fresh dill or 1 teaspoon dried dill weed
1/4 cup grated, and squeezed dry, cucumber
Directions:
Mix yogurt and garlic, and add salt and pepper to taste. Stir in dill and cucumber. Refrigerate, covered, until ready to serve.
Nutrients per serving: 217 calories, 8g total fat, 2g saturated fat, 34% calories from fat, 112mg cholesterol, 27g protein, 8g carbohydrate, .5g fiber, 897mg sodium, 320mg calcium and 1.8g omega-3 fatty acids.
Notes:
These light and healthy salmon cakes are scrumptious served on a bed of crisp greens or stacked on toasted buns as a burger alternative.
Recipe By:
Chef Kathy Casey