Seared Alaska Scallops with Jalapeno Cream, by Chef Rick Bayless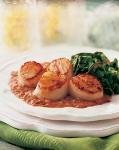 Serves: 4
Ingredients:
16 large Alaska Scallops, 20/30 count (about 1 1/4 pounds total), tough opaque "foot" on the side of each scallop pulled off
2 Tbsp. fresh lime juice
About 1/4 tsp. salt, plus more for sprinkling on the scallops
Black pepper, freshly ground, as needed
1 1/2 Tbsp. olive oil
1 1/2 cups Roasted Jalapeno-Cilantro Salsa (see salsa recipe below)
1/2 cup heavy (whipping) cream or creme fraiche
1/3 cup fresh cilantro or parsley, chopped
Directions:
MARINATING THE SCALLOPS. Rinse the scallops and place in a large bowl, along with the lime juice and a liberal sprinkling of salt and pepper. Cover and refrigerate for a couple of hours (no more or it will "cook" the scallops). Remove from the marinade and pat dry.
SEARING THE SCALLOPS. Heat the oil in a large, heavy skillet over medium high. Lay in the scallops, making sure they're not crowded – they'll stew rather than sear. If you're not able to fit them in an uncrowded layer, sear the scallops in 2 batches. Fry until richly browned on one side, about 2 minutes, then turn them over with tongs or a spatula and sear the other side 1 to 2 minutes more; scallops are done to my taste when they're still a little translucent in the middle. Remove to a warm plate and pour off all the oil left in the pan.
FINISHING THE DISH. Return the pan to the heat and, when hot, add the salsa. Stir for a couple of minutes as the salsa reduces, thickens and darkens. Reduce the heat to medium-low, stir in the cream and, when hot, taste and season with salt.
SERVING. Ladle a portion of sauce onto each of 4 warm dinner plates, then arrange the scallops on top. Sprinkle each one liberally with chopped cilantro or parsley.
VARIATIONS AND IMPROVISATIONS: Serve this luscious sauce over fettuccini, and call it New World Alfredo. Alaska Spot Prawns would be equally delicious; if that's your preference, cook them a little less time than you would scallops.
Roasted Jalapeno-Cilantro Salsa
Ingredients:
For 2-1/2 cups
1-1/2 pounds (about 6 medium plum) ripe tomatoes (preferably plum)
2 to 3 (1 to 1-1/2 ounces) fresh jalapeno chiles, stemmed
1/2 small (2 ounces) white onion, sliced 1/4-inch thick
4 garlic cloves, peeled
about 1/4 cup water
1/3 cup fresh cilantro, loosely packed, chopped
1 generous teaspoon salt
1-1/2 teaspoons cider vinegar
For 5 cups
3 pounds (about 12 medium plum) ripe tomatoes (preferably plum)
4 to 6 (2 to 3 ounces) fresh jalapeno chiles, stemmed
1 small (4 ounces) white onion, sliced 1/4-inch thick
8 garlic cloves, peeled
about 1/2 cup water
2/3 cup fresh cilantro, loosely packed, chopped
2 generous teaspoons salt
1 tablespoon cider vinegar
For 7 1/2 cups
4 1/2 pounds (about 18 medium plum) ripe tomatoes (preferably plum)
6 to 9 (3 to 4 1/2 ounces) fresh jalapeno chiles, stemmed
1 medium (6 ounces) white onion, sliced
1/4-inch thick 12 garlic cloves, peeled
about 3/4 cup water
1 cup fresh cilantro, loosely packed, chopped
1 generous tablespoon salt
1 1/2 tablespoons cider vinegar
Other chiles you can use: habanero (orange or green), serrano, santa fe, fresno, fresh pequin (go light; theyre hot!) hungarian wax, fresh arbol, cayenne, Tabasco, as well as most small hot fresh chiles.
1. HEAT THE BROILER. Lay the whole tomatoes and jalapenos out on a broiler pan or baking sheet (many cooks like to line the pan or baking sheet with heavy duty foil to easily capture the juices and make clean up a snap). Set the pan 4 inches below the broiler and broil for about 6 minutes, until darkly roasted-even rather blackened-on one side (the tomato skins will split and curl in places). With a pair of tongs, flip over the tomatoes and chiles and roast the other side for another 6 minutes or so. The goal is not simply to char the tomatoes and chiles, but to cook them through while developing nice roasty flavors. Set aside to cool.
2. TURN THE OVEN DOWN to 425F. On a similar pan or baking sheet, combine the onion and garlic (youll want to separate the onion into rings) and set in the oven. Stir carefully every couple of minutes, until the onions are beautifully roasted (theyll be wilted, even have a touch of char on some edges) and the garlic is soft and browned in spots, about 15 minutes total. (For a smokier-flavored salsa, the onion and garlic can all be done on a perforated grilling pan.)
3. FOR A LITTLE LESS RUSTIC A SALSA (or if youre canning the salsa), pull off the peel from the cooled tomatoes and cut out the coreswhere the stems were attached (be sure to work over your baking sheet so as not to waste any juices). In a food processor, pulse the jalapenos (no need to peel or seed them) with the onion-garlic mixture until moderately finely chopped, scraping everything down with a spatula as needed to keep it all moving around. Scoop into a big bowl. Without washing the processor, coarsely puree the tomatoes-and all the juice that has accumulated around them-and add them to the bowl. (If youre making the largest batch, youll have to do the tomatoes in two batches.) Stir in enough water to give the salsa an easily spoonable consistency (salsas in Mexico are usually a little smoother and saucier than they are here-not very chunky or thick). Stir in the cilantro.
4. TASTE AND SEASON with salt and vinegar, remembering that this condiment should be a little feisty in its seasoning. If youre planning to use your salsa right away simply pour it into a bowl and its ready, or, refrigerate it and use within 5 days.
5. VARIATION: Roasted Habanero-Tomato Salsa: To make this very spicy, distinctive flavored salsa, replace the jalapenos with 2/4/6 stemmed habanero chiles (I prefer the fruitier flavor of the orange habaneros to the less ripe-even grassy flavor-of the greens).
Recipe By:
Chef Rick Bayless