Southwest Grilled Alaska Salmon with Fruit Salsa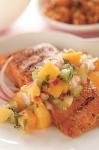 Serves: 4
Prep Time: 25 minutes
Ingredients:
Fruit Salsa
1 lb. frozen or refrigerated mango chunks or peaches, diced
4 kiwi fruit, peeled and diced
1/3 cup red onion, finely diced
1/4 cup cilantro, chopped coarse or 1 Tablespoon dried cilantro
1/4 cup fresh lime juice
1 teaspoon peanut or extra virgin olive oil
Grilled Salmon
4 Alaska Salmon steaks or fillets (4 to 6 oz. each), fresh, thawed or frozen
1/4 teaspoon salt
1/4 teaspoon ground cumin
1/4 teaspoon celery seed
1/4 teaspoon garlic powder
1/4 teaspoon cayenne pepper
2 teaspoons fresh lime juice
1-1/2 Tablespoons olive, canola, peanut or grapeseed oil
Directions:
Prepare salsa: Thaw mango chunks at low setting in microwave, 4 to 5 minutes. Dice mango and add to bowl. Stir in remaining salsa ingredients; set aside.
Prepare salmon: Rinse any ice glaze from frozen Alaska Salmon under cold water; pat dry with paper towel. Measure salt, cumin, celery, garlic, and cayenne into a small bowl; mix in lime juice and oil. Heat a heavy nonstick skillet or ridged stovetop grill pan over medium-high heat. While pan heats, brush half of spice mixture onto one side of the salmon portions. Place salmon in heated skillet, seasoned side down. Cook, uncovered, about 3 to 4 minutes, until well grill- marked. Shake pan occasionally to keep fish from sticking.
Brush tops of salmon with remaining spice mixture and carefully turn salmon over. Cover pan tightly and reduce heat to medium. Cook an additional 6 to 8 minutes for frozen salmon OR 3 to 4 minutes for fresh/thawed fish. Cook just until fish is opaque throughout. Serve hot with fruit salsa.
Nutrients per serving: 392 calories, 13g total fat, 3g saturated fat, 30% calories from fat, 126mg cholesterol, 36g protein, 34g carbohydrate, 5g fiber, 238mg sodium, 58mg calcium and 1.2g omega-3 fatty acids.