Fast & Spicy Alaska Halibut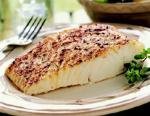 Serves: 4
Prep Time: 5 minutes
Ingredients:
1 Tablespoon paprika
1-1/2 teaspoons each dried oregano and dried thyme
1 teaspoon each onion powder and garlic powder
1 teaspoon each black pepper and salt
1/2 teaspoon cayenne pepper, or to taste
4 Alaska Halibut steaks or fillets (4 to 6 oz. each), fresh, thawed or frozen
1-1/2 Tablespoons butter, melted
Directions:
Preheat broiler/oven or grill to medium-high heat.
Mix together all dry seasoning ingredients until well combined.
Rinse any ice glaze from frozen Alaska Halibut under cold water; pat dry with paper towel. Place halibut on a spray-coated or foil-lined baking sheet. Brush butter onto top surfaces of halibut and sprinkle with 1/2 teaspoon seasoning mixture. (Note: For best results with frozen fish, cook halibut 4 minutes before adding butter and spices.)
Grill or broil halibut 5-7 inches from heat for 13 minutes for frozen halibut OR 8 minutes for fresh/thawed fish. Cook just until fish is opaque throughout.
Store remaining seasoning mixture in an airtight container for future use.
Nutrients per serving: 239 calories, 8g total fat, 4g saturated fat, 33% calories from fat, 66mg cholesterol, 36g protein, 3g carbohydrate, 1g fiber, 712mg sodium, 109mg calcium and 1g omega-3 fatty acids.