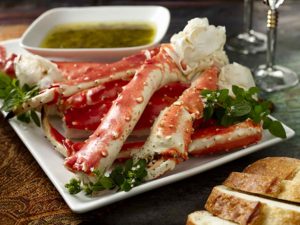 Tis' the season once again for family, friends and colleagues to come together in the spirit of Christmas, and to relish in the excitement and anticipation of ringing in the New Year.
The holiday's, being steeped in tradition, are a favorite time of year for a foodie such as myself.  Of course we all become fully immersed in the Christmas festivities.  We look forward to digging all the decorations out of storage and putting up the tree with our kids. Late nights watching the holiday classics (again) and spending quality time with family and friends.  But when the holiday's roll around, we know that it is time to grab our forks, forgo our diets and dig in!  Thoughts of carefully crafted confections to savory and decadent dishes arouse our taste-buds in anticipation of the next masterpiece that will adorn our Christmas table.  I will admit that we tend to go a bit overboard, but isn't that what celebrating is really all about?  Christmas dinner is of course the main event at our house, but the real excitement begins when the appetizers start rolling out.  Devilled eggs, peel and eat Alaskan spot shrimp and snow crab claws with homemade cocktail sauce, freshly shucked Alaskan oysters and everyone's favorite… gramma's king crab dip, are just a sampling of the indulgences that we look forward to.
Over time, we all create our own family traditions for the holidays, especially when it comes to Christmas dinner.  Some stay tried and true with a stuffed turkey in the oven, or even a stuffed bird inside a bird, stuffed in yet another bird, while others indulge on a beautifully glazed and baked ham.  But Christmas dinner at our family gathering has evolved into a uniquely Alaskan tradition… one with a serious coastal flair.  Don't get me wrong, we don't celebrate Christmas without red meat.  In fact, grampa makes the absolute best prime rib in the entire world!  Yes… I am biased!  However, it's the Alaskan infused side dishes that truly make our celebration a "Winfree" tradition.  Our table wouldn't be complete without steamed King Crab legs served hot with drawn butter, baked stuffing with reindeer sausage, mom's halibut cheek casserole and Alaskan side striped shrimp and scallop ceviche. Man, I'm getting hungry just thinking about it!
No matter how you choose to celebrate the holidays, or which succulent dishes find their way onto your family's dining room table, this is really a time for gathering in divine celebration.  Embrace your traditions, cherish those around you and above all, have a very Merry Christmas and a safe and joyous New Year!
Best wishes from all of us at 10th & M Seafoods,
Rob Winfree
Vice President
10th & M Seafoods