Alaska Weathervane Scallops with Pancetta, Fennel and Mushrooms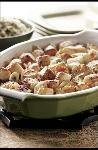 Serves: 8
Prep Time: 35 minutes
Ingredients:
5 Tablespoons olive oil, divided
8 ounces thinly sliced pancetta, cut in 1″ pieces
12 ounces button mushrooms, cut in wedges
2 fennel bulbs, cored and thinly sliced
1/4 cup dry white wine or vermouth
3 pounds Alaskan Weathervane Scallops
Kosher salt
Freshly ground black pepper

Directions:
Place a very large skillet over medium heat and swirl in 1 tablespoon of the oil. Add the pancetta and cook, stirring often, until it renders but is not quite crisp. Add the mushrooms, fennel, and wine and cook until the fennel is soft, about 8 minutes. Spread the vegetables out in a 9-inch x 13-inch shallow baking dish. The dish can be prepared ahead up to this point.
Preheat the oven to 425F. Rinse and inspect the scallops; if any have a small rectangular piece of muscle attached to the side, remove and discard it. Pat the scallops dry on paper towels. Put the baking dish of mushrooms and fennel in the oven to heat while you sear the scallops.
Wash and dry the large skillet and place it over medium-high heat. Add 2 tablespoons oil. When hot, lower in half the scallops, flat side down, and cook until the undersides are a deep golden brown. Cook only one side. Transfer the first batch of scallops, browned side up, to a plate to hold. Add the remaining oil to the skillet and brown the rest of the scallops. Remove the baking dish from the oven and arrange the scallops, browned side up, on top of the vegetables. Return the dish to the oven and bake for 12 to 15 minutes. Serve right away with a whole grain or wild rice pilaf.
Nutrients per serving:
291 calories, 12g total fat, 2g saturated fat, 36% calories from fat, 69mg cholesterol, 35g protein, 10g carbohydrate, 2g fiber, 616mg sodium, 72mg calcium and .4g omega-3 fatty acids.
Recipe By:
Recipe by Jerry Traunfeld, Executive Chef of The Herbfarm